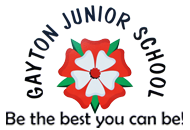 Our Education Child Protection Safeguarding Policy can be viewed by clicking here. The policy has been written in line with the new Keeping Children Safe in Education document which can be accessed by clicking here.
Everyone working in, or for our school, shares an objective to help keep children and young people safe by contributing to:
Providing a safe environment for children and young people to learn in education settings, and;
Identifying children and young people who are suffering or likely to suffer significant harm, and taking the appropriate action with the aim of making sure they are kept safe both at home and in the school setting.
If you have any concerns regarding a safeguarding issue, please contact a member of our safeguarding team at school:
Mrs Jane Hill (Headteacher, Designated Safeguarding Lead & Looked After Children Lead) – head@gaytonj.derby.sch.uk /  safeguarding@gaytonj.derby.sch.uk)
Mrs Leanne Trimbee (Deputy Designated Safeguarding Lead) – ltrimbee@gaytonj.derby.sch.uk
Mrs Vicki Clarke (Learning Mentor) – vclarke@gaytonj.derby.sch.uk
Mrs Debbie Costema (SENCO – senco@gaytonj.derby.sch.uk)
Mrs Sue James – Attendance Officer
Mrs Sukhy Mahal (Safeguarding Governor)
Other Key Links:
Additional Safeguarding Policies
Online Safety Advice for Parents
Leaving Children at Home Alone – NSPCC Advice
Protecting Children from Radicalisation – NSPCC Advice
Support for Adults Who Are Victims of Domestic Abuse
Protecting Your Daughter from Female Genital Mutilation (FGM)
Virgin Media Cybercrime Information